REACHING A NEW RESOURCE
Over the past two years, headlines have skyrocketed about PFAS contamination in water supplies across the country. A U.S. Geological Survey study published in July estimates at least 45% of the nation's tap water contains PFAS. The issue has alarmed communities in North Carolina relying on water supply from the Cape Fear River since 2017 when the existence of these "forever chemicals" first emerged.

Fortunately, leadership at Brunswick Regional Water & Sewer H2GO had already begun looking into an alternative to surface water. In 2011, H2GO contracted with The Wooten Company to conduct a study to determine if it would be feasible to withdraw brackish groundwater – with total dissolved solids of 5,000 milligrams per liter – from the Lower Pee Dee and Black Creek aquifers. There was no local competition for these resources, making it an innovative approach to alleviate a serious public health concern.

The source water in these aquifers has been stored beneath a confining layer of clay for hundreds of years and is an abundant source supply that will serve communities for generations to come. Sampling by Groundwater Management Associates (GMA) confirmed that the barrier insulates the source water from pollutants, eliminating concerns about PFAS or other potential contamination. Wooten engineers and GMA specialists determined that deep wells, using submersible pumps, could extract from this water supply for treatment using reverse osmosis (RO) technology.

EXHIBITING ENGINEERING EXCELLENCE
Locally, the project received significant media attention, in part due to public debate about the most prudent path forward to provide clean and affordable drinking water to the community. Wooten's preliminary engineering report (PER) for H2GO's Board of Commissioners ultimately helped resolve different priorities and perspectives among Board members. The Board wanted to determine if they should plan to continue buying finished water in bulk from Brunswick County Public Utilities (BCPU) in perpetuity – using water withdrawn from the Cape Fear River – or if they should build an RO treatment plant to deliver clean water to its customers.

Data and analysis in the PER revealed H2GO had reached an inflexion point: continuing to buy water from BCPU would be more expensive for ratepayers than it would be to finance and operate a new aquifer-sourced RO treatment plant. It is analogous to deciding it's time to build a house at a set price instead of paying potentially escalating rent for an indeterminant number of years.

Ultimately the combination of cost savings, public health considerations, and enhanced resilience drove the decision to proceed with constructing the RO plant for H2GO. Nationally, the RO plant was selected for publication in the Summer 2023 issue of Engineering Inc. magazine, which featured three innovative water treatment projects from across the country delivering environmental benefits. It also earned a 2024 Engineering Excellence Award bestowed by the American Council of Engineering Companies of North Carolina. The project serves as an example to water resources and drinking water treatment engineers to expand their thinking beyond reliance on surface water supply.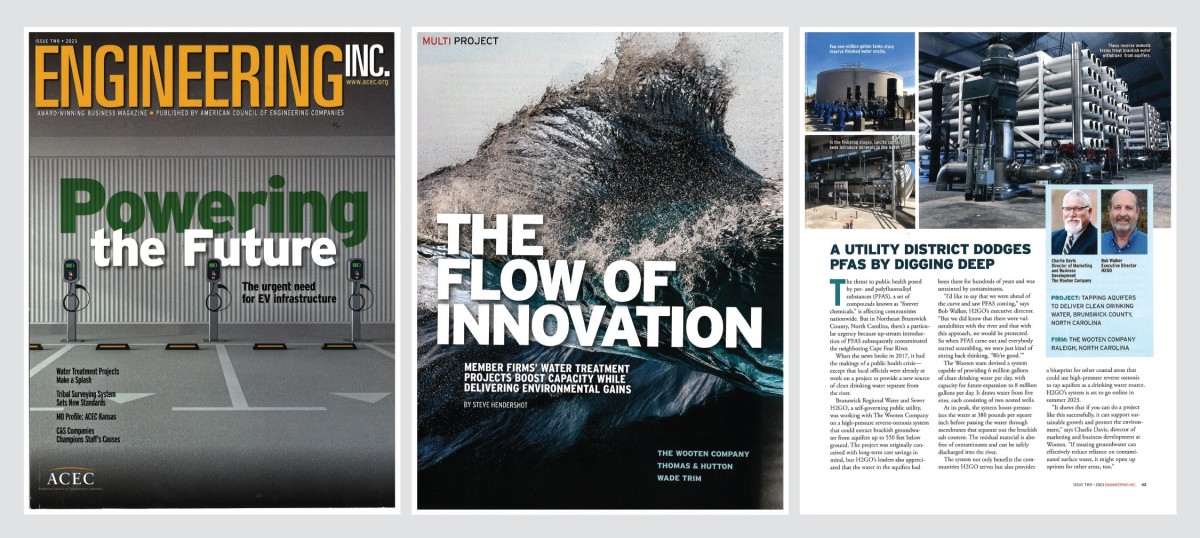 SUPPORTING EQUITY & SUSTAINABILITY
The Board recognized that the new plant would promote social, environmental, and economic equity by providing clean water to all without raising bills for customers, regardless of income.

From a sustainability standpoint, unlike surface water, deep source confined ground water is not vulnerable to threats that have become more frequent and severe since the turn of the century, such as drought and flooding from hurricanes. In this case, the water source is safe from man-made chemical pollutants, including PFAS.

"The regional source water diversification provided by the groundwater source is beneficial to the area to be able to maintain safe drinking water even if there is a power outage or other emergency that interrupts the surface water sources," said Jay Holley, senior hydrogeologist with GMA. "I believe that the RO wellfield and plant can operate on emergency backup generators if there is an extended interruption in the power grid – such as might occur from a major hurricane."

The plant has positive implications for community and economic development. Historically, H2GO's customer base, located in Northeast Brunswick County, grew at a rate of about 2.5% annually. The utility has noted ramped up development creating more demand at a faster pace. Its current customer base is expected to double in the next 25 years. To meet the anticipated need for drinking water in the future, the RO facility is designed with a plan to eventually increase capacity by an additional two million gallons of water per day. This is essential to serve the region's fast-growing communities and attract private investment to promote prosperity and quality of life for all.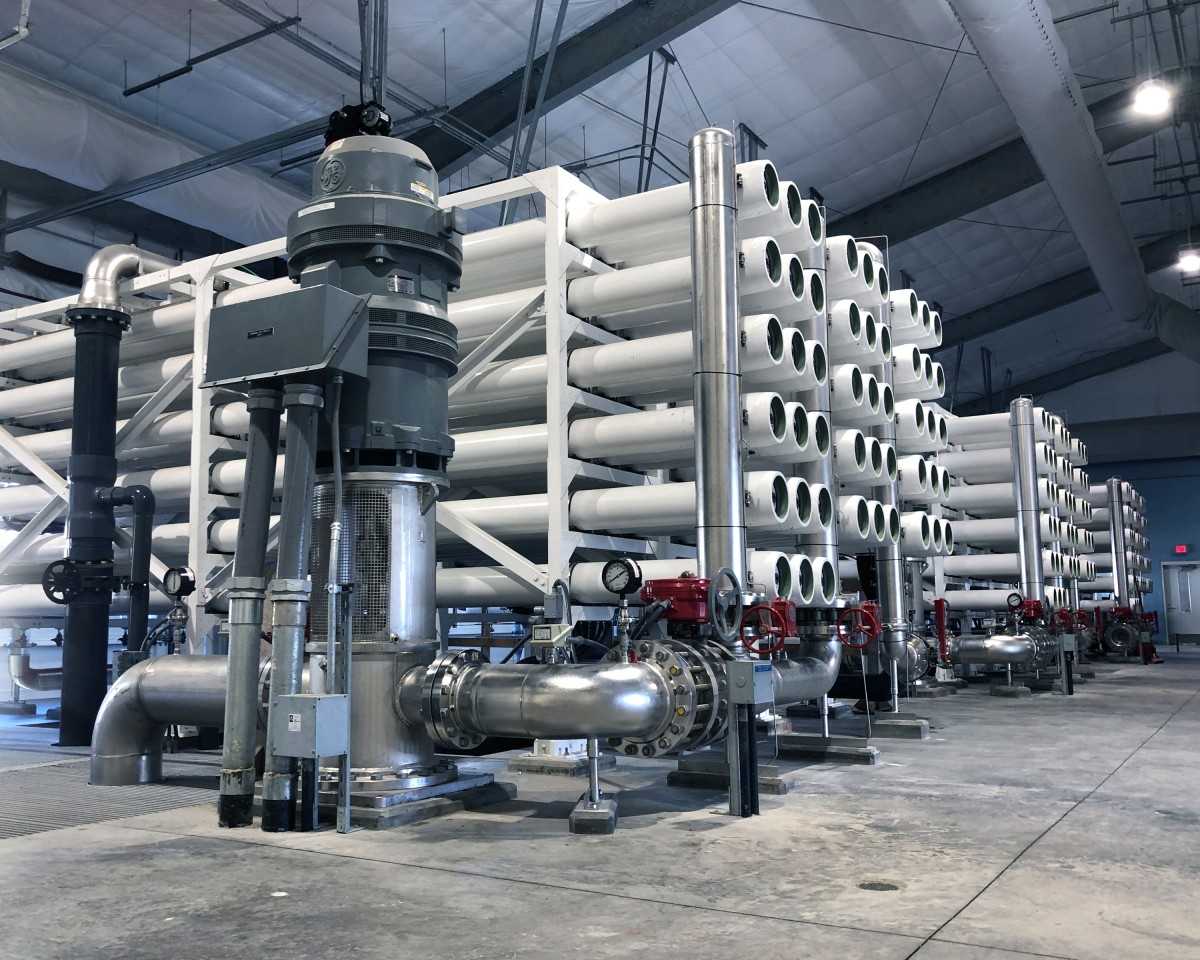 HARNESSING COMPLEX TECHNOLOGY
Collaborating with renowned reverse osmosis expert Ian Watson, former executive director of the American Membrane Technology Association, Wooten engineers designed an RO plant that, at full build-out, can provide up to eight million gallons of clean drinking water per day. It draws water from five sites, each containing two deep aquifer wells. One well taps the Lower Pee Dee aquifer at a depth of 350 feet and another taps the Black Creek aquifer more than 550 feet below ground. Pumps transmit the brackish water – salty but not so much as seawater – from the wells to the treatment plant. There, antiscalant chemicals are added to the raw water and cartridge filters remove particles to protect the RO membranes from clogging.

Three RO trains, each equipped with a 400-horsepower feed pump, pressurize the pretreated water to more than 200 PSI. An interstage energy recovery turbine boosts pressures to 380 PSI, driving water through two stages of 48 RO vessels per train, each with 336 thin-film composite membranes that separate salt from the water. In the event groundwater salinity increases, the number of RO vessels per train can be expanded to 54 to enhance treatment. This process yields respective caches of demineralized water permeate and a brine concentrate similar to seawater.

In the finishing stages, addition of carbon dioxide to the permeate makes it acidic. This step allows the water to react with crushed calcite that, along with an infusion of polyphosphates, prevents corrosion of distribution pipes. Finally, the addition of sodium hydroxide improves stability. Two one-million gallon tanks store the ready-to-drink water on site, where it is then transmitted to elevated storage tanks within the service area.

To dispense the concentrate into the Brunswick River, the project team secured a National Pollution Discharge Elimination System (NPDES) permit issued by the State of North Carolina. To obtain the permit, Wooten's geomatics team used a GPS-enabled vertical sonar echosounder to survey the river floor. GMA's experts used the data to conduct a mixing study to create a model that determined how to situate diffusers allowing the concentrate to be mixed properly and discharged in an environmentally sound way.

"I'm pleased with the high degree of coordination and focused effort that has made this project successful," said Charles Davis, PE, who managed the project for Wooten. "We appreciate teaming with H2GO to navigate the complexity necessary to serve their community with a reliable, long-term solution for safe drinking water."
SAVING $3.4 MILLION ANNUALLY
The RO plant project, more than a decade in the making, broke ground in November 2020 just as the pandemic neared its peak, creating well-documented challenges impacting the supply chain, staffing, and inflating costs across the economy. The client also decided – after construction began – that they wanted to capitalize on this once-in-a-generation opportunity and go with a higher capacity option than was included in the final design, prompting Wooten engineers to add a third RO treatment train and supporting processes. This, along with other approved change orders, increased the final price tag for the project, but with the approval and to the satisfaction of the client. Taking all factors into account the plant still went online in the allotted projected timeframe. Expandability inherent in the original design promoted construction document preparation and regulatory approval "on the fly" as construction progressed.

"Having an established working relationship with The Wooten Company for over ten years, we were highly engaged in the project construction phase and thoroughly impressed by the creative field change maneuvers to keep our project moving forward during a pandemic and unprecedented supply chain issues," said Bob Walker, H2GO's executive director.

Although challenges are sure to arise with every project, and many factors were beyond Wooten's control, the design team and construction administrators took every measure possible to monitor progress, anticipate potential issues, adapt to changing conditions, and communicate and consult with the client. The project team delivered an economical and cost-effective solution: H2GO projects the new facility, now in service, will save the utility more than $3.4 million annually.

"Wooten's team exceeded our expectations in plan development and design, which eliminated reliance on surface water supplies and provided H2GO the self-sufficient systems necessary to protect our customers from increasing wholesale water costs," said Walker.

Wooten has partnered with H2GO on more than 50 projects since 2008 including water supply, treatment, storage, and transmission. The success of the RO plant is a milestone in that relationship.

"Wooten's knowledge, expertise, and dedication helped propel this project forward, giving us clear direction and providing valuable assistance along the way," Walker concluded. "Their commitment to our goal of providing our community with clean drinking water shines through in their work."